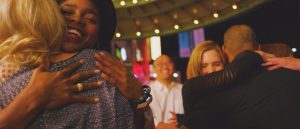 A new spirit is overtaking Ohio. More people are back to work, our economy is diversifying and Ohioans are confident about the future of their state. A re-energized Ohio calls for a stronger, distinctive voice to set it apart as a place to live, work, play and stay.
"Ohio. Find It Here." is Ohio's new brand. This new brand represents how people actually think and feel about their experiences in Ohio. Developed in partnership with Ohio-based Cult Marketing, it is based on an innovative research process that included more than 142 hours of one-on-one interviews that found that Ohio's activities and attractions inspire real, honest and deep connections that last forever.
While Ohio has gained momentum in attracting visitors from outside Ohio, research also showed that a lack of awareness about the state and the emotional experiences that people share when visiting. The new brand will help reinforce, on an emotional level, the joy, happiness, excitement and shared connections people experience in Ohio.
It is a brand that is flexible and powerful because it is widely applicable, and able to exude all facets of Ohio beyond tourism, to include economic development, natural resources, Ohio's workforce and much more.
The new brand statement was tested against competitor statements and consumers overwhelmingly found it to be more appealing than brand statements used by neighboring states.
TourismOhio has begun incorporating "Ohio. find it here." into statewide travel and tourism communications. An integrated marketing campaign, featuring broadcast, print and online advertising will be fully in place by spring 2016.